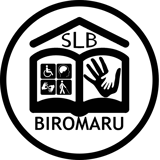 Privacy Policy
Last updated: 8-10-2023
The SLB Biromaru website is owned by Sekolah Luar Biasa Biromaru, which is the data controller of your personal data.
We have adopted this privacy policy, which specifies how we process information collected by SLB Biromaru, which also provides the reasons why we have to collect certain personal data about you. You are therefore obliged to read this privacy policy before using the SLB Biromaru website.
We take care of your personal data and promise to guarantee its confidentiality and security.
Personal information we collect:
When you visit the SLB Biromaru website, our services automatically collect certain information about your device, including information about your web browser, IP address and time zone. In addition, as you browse the Site, we collect information about the individual web pages you view, what websites or search terms led you to the Site, and how you interact with the Site. We refer to this automatically collected information as "Device Information." In addition, we may collect personal data that you provide to us (including but not limited to Name, Address, form, etc.) at the time of registration to be able to fulfill agreements, such as:
Personal information of students;

Family information of students;

Home address, email and phone number;

Identification documents;

Photo.
Personal information will not be used to conduct any private business.
Why do we process your data?
Our top priority is the security of customer data, and therefore, we can only process minimal amounts of user data, only to the extent strictly necessary to maintain the website as well as for the registration of forms you send to us. Automatically collected information is only used to identify potential cases of abuse and establish statistical information regarding the use of the website. This statistical information is not collected in such a way that it can identify specific system users.
You can visit the website without telling us who you are or revealing any information, so that someone could identify you as a specific identifiable individual. However, if you want to use some features of the website, provide other details by filling out forms, you may provide us with personal data, such as email, name, city of residence, organization, phone number and more if required by us. You can choose not to provide us with your personal data, but you may not be able to utilize some website features. For example, you will not be able to contact us directly from the website or otherwise prevent you from using our services. For users who are still unsure about what information is required, please contact us via email contact@slbbiromaru.sch.id.
Security information:
As we have explained at the top of this page, our third-party services automatically collect certain information about visitors to our site, you can view the privacy policies of the services we use at:
Please note, if it is possible for extra security, we will add additional security, as we have done with our online registration form (service security policy: https://www.jotform.com/security/)
However, we realize that no security is 100% that because the transmission of data over the Internet or wireless networks that you do cannot guarantee complete security.
SLB Biromaru will take necessary security measures to prevent loss, destruction, alteration and unauthorized access to confidential information. SLB Biromaru will not disclose the personal information collected to any third party, except as required by the terms and conditions of the services we use, the law and educational supervisory and regulatory agencies. SLB Biromaru always strictly supervises and warns employees about offline data management. Any school employee who manages data offline is fully responsible for its management and distribution.
Apart from the management mentioned above, SLB Biromaru is required by supervisors and education coaches to share data every certain period of time, for the purposes of:
Monthly reports on the condition and situation of schools by the Education Office in the Central Sulawesi Region and Sigi District;
Reports for the Dapodik (basic education data) application by the Ministry of Education and Culture of the Republic of Indonesia.
Every personal data information that is managed by SLB Biromaru for the above institutions, the management is fully the responsibility of the above institutions. SLB Biromaru is always careful in the distribution of personal data by only distributing personal data to authorized parties and those officially appointed by the authorizing official.
Links to other websites:
Our website may contain links to other websites that are not owned or controlled by us. Please be aware that we are not responsible for such other websites or the privacy practices of such third parties. We encourage you to exercise caution when you leave our website and to read the privacy statements of each website that may collect personal information.
Your Rights:
Owners of personal data have rights over the data provided to us, you have the following rights in relation to your personal data:
The right to be informed;

The right to rectification;

The right to object.
If you wish to exercise any of these rights, please contact us via the contact information below.
Personal data owners are encouraged to watermark, before sharing personal data documents with us.
Legal disclosure:
We will disclose any information we collect, use or receive when required or permitted by law, such as to comply with a subpoena or similar legal process, for the purposes of government programs such as scholarships, competitions, welfare and when we believe in good faith that disclosure is necessary to protect our rights, protect your safety, or the safety of others, investigate fraud, or respond to a government request.
Contact information:
If you would like to contact us to understand more about this Policy or would like to contact us regarding any matters relating to individual rights and your Personal Information, you may send an email to contact@slbbiromaru.sch.id.